Enterprise-class 24*7 PostgreSQL Remote DBA Services 
---
Hiring and retaining elite-class/Principal-Level PostgreSQL DBAs are extraordinarily complex and super expensive; we understand this problem very well and have successfully solved these challenges for more than 500 companies (including large corporations and startups) worldwide for several years. MinervaDB is a pioneer in building high-performance, scalable and reliable PostgreSQL Database Operations for both on-premises and cloud; You can focus on business, and we will manage your PostgreSQL infrastructure, addressing performance, scalability, high availability and Data SRE.
If you want to know more about how you can engage MinervaDB for building open source OLTP and OLAP Database Infrastructure cost-efficiently, Please download our fact sheet here.
☛ MinervaDB PostgreSQL Remote DBA Services (24*7)
PostgreSQL Installation and Configuration
PostgreSQL Performance Benchmarking
PostgreSQL Capacity Planning/Sizing
PostgreSQL Performance Audit / Health-Check / Diagnostics
PostgreSQL Server Tuning
PostgreSQL Query Optimization
PostgreSQL Index Optimization
PostgreSQL Disk Optimization
PostgreSQL Scale-out/Replication Solutions
PostgreSQL Data SRE Services
PostgreSQL Custom Software Engineering / Feature Enhancement
PostgreSQL Bug Fixing/Patching
PostgreSQL Upgrades and Migration
Building Secured Database Infrastructure on PostgreSQL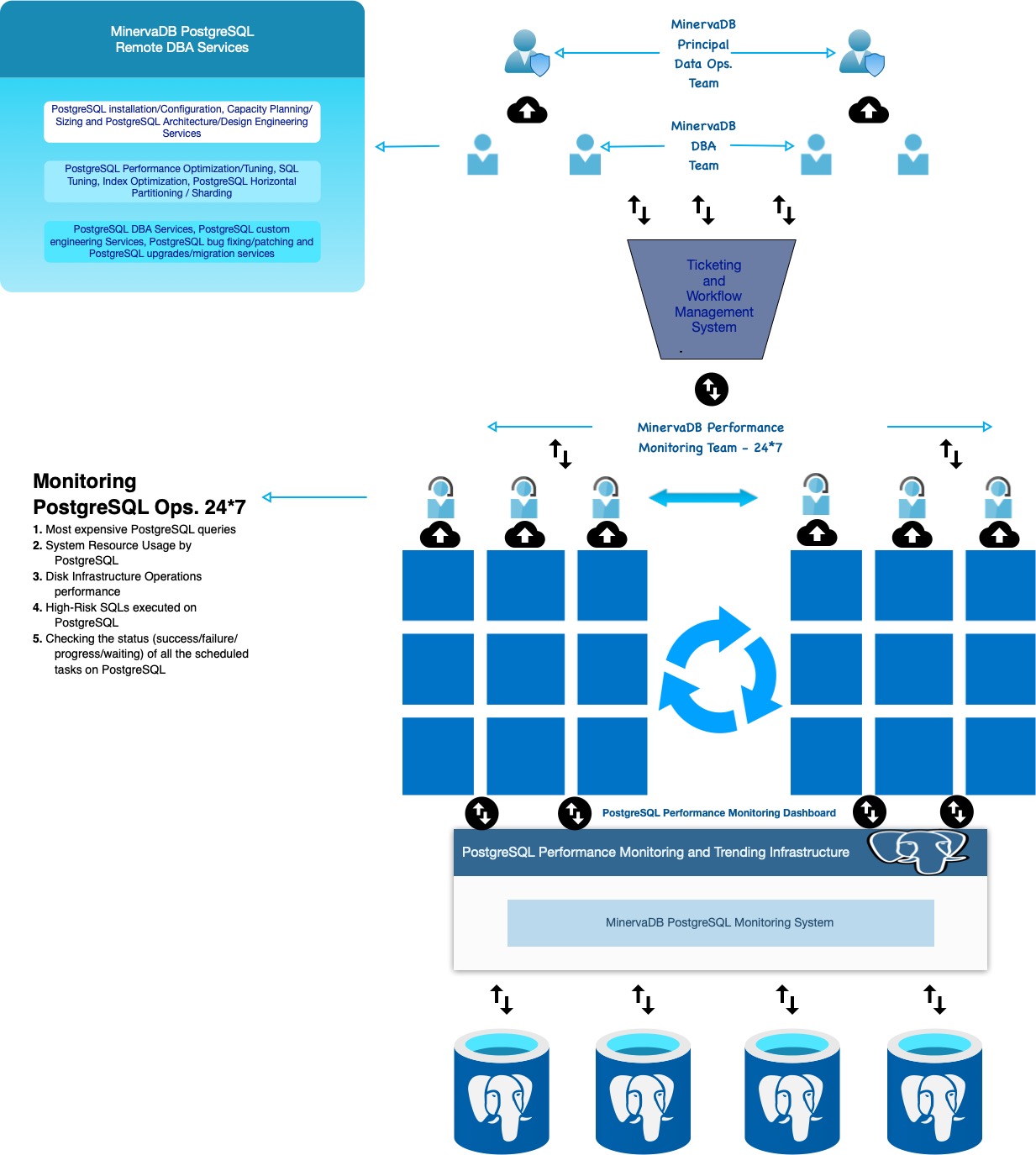 ☛ Remote DBA Plans for PostgreSQL
We are transparent in sharing how we bill our customers for remote DBA services.  There are absolutely no hidden costs attached; You will pay only what we have mentioned below. Our remote DBA plans are independent of how many database servers we are managing for you; The fixed-priced billing model gives you robust control over the budget you have for database infrastructure operations management.
Remote DBA Plan
Rate
( plus GST / Goods and Services Tax where relevant )
On-Demand Remote DBA
(8 hours Remote DBA per month)
US $1,600 / month
Quarter DBA
(40 hours of remote DBA services per month)
US $6,000 / month
Half DBA
(80 hours of remote DBA services per month)
US $10,000 / month
Full DBA
(160 hours of remote DBA services per month)
US $16,000 / month
The Ultimate DBA
(Remote DBA services for 24*7*365)
US $54,000 / month
★ We deliver Remote DBA Services for MySQL, MariaDB, Percona Server, MyRocks and PostgreSQL.
★ We monitor 24*7*365 your database infrastructure operations performance and reliability.
★ We don't bill you per instance; our remote DBA plans are not dependent on the number of Database Instances we manage for you! 
☛ A partial list of customers ( from approximately 500 globally) – What we did for them?
Fox Media – MySQL Consultative Support and Managed Remote DBA
Twitch – MySQL Consultative Support
Shutterfly – MySQL Consultative Support
Instacart – MySQL Consultative Support
Sabre Corporation – MySQL Consultative Support and Managed Services
Verisign – PostgreSQL Consultative Support and Managed Services
Home Depot – MySQL Consultative Support
Comcast Media Networks – MariaDB Consultative Support
Viacom – PostgreSQL Consultative Support and Remote DBA
APC – PostgreSQL Consultative Support and Remote DBA Services
Prada – PostgreSQL Consultative Support and Remote DBA Services
Tiffany & Co – PostgreSQL Consultative Support and Remote DBA Services
Tiffany & Co – ClickHouse Consultative Support
Strabag – PostgreSQL Consultative Support and Remote DBA Services
Danone – MySQL Consultative Support
Asahi – PostgreSQL Consultative Support and Remote DBA Services
Castel Group – MySQL Consultative Support and Remote DBA Services
Shell Petroleum – PostgreSQL Consultative Support
GoDaddy – MySQL Consulting and Enterprise-Class Support
Grab – MySQL Consulting and Professional Services
DataCloud – MySQL Consulting and Professional Services
Garmin – ClickHouse Consulting and Enterprise-Class Support
ClassPlus – Amazon RDS Support and Managed DBA Services
ClassPlus – ClickHouse Enterprise-Class Support
MPL – PostgreSQL Consulting and Managed DBA Services
WrestleMania – MySQL Consultative Support
Kirin – PostgreSQL Consultative Support
Blue Dart – ClickHouse Consulting / Professional Services and Enterprise-Class Consultative Support
LibLynx – MySQL Consulting and Managed Remote DBA Services
SriLankan Airlines – PostgreSQL Consultative Support
Callaway Golf – MySQL Consultative Support
YONEX – MySQL Consultative Support
BharatPe – MySQL and ClickHouse Consultative Support
Dean Food Group – MySQL Remote DBA and Consultative Support
Flip.id – MySQL Consultative Support
Fitbit – MySQL Consulting and Support
Sprint Global – PostgreSQL Enterprise-Class Consultative Support
Sony – PostgreSQL Consultative Support and Managed Remote DBA Services
Chevrolet – PostgreSQL Remote DBA Services and Enterprise Support
BankBazaar– MariaDB consultative support and Remote DBA services
MIX– MySQL Consulting and Professional Services
AOL– Performance benchmarking, capacity planning & sizing, Remote DBA Services and Site Reliability Engineering Services
eBay– Remote DBA services, MySQL DevOps. & automation, on-call DBA Support (24*7) and MySQL upgrades / migration
Forbes.com– Remote DBA services, architecting & building highly available MySQL infrastructure operations and consulting & professional services for MySQL
National Geographic– MySQL Consulting & Professional services, performance audit & optimization and MySQL upgrades
Apigee– PostgreSQL Support and Remote DBA Services
PayPal– MySQL Consulting & Professional Services, MySQL performance audit & recommendations and MySQL SRE
Yahoo– MySQL Consulting & Professional services, on-call DBA Services and MySQL Emergency Support
The New York Times Company – MySQL Consultative Support and Remote DBA
Priceline.com – Consulting & Professional Services for MySQL & Percona Server for MySQL, Performance optimization & tuning and MySQL SRE
Freshdesk – MySQL performance audit & recommendation, MySQL scale-out & replication solutions and MySQL Consultancy
OLA – MySQL Consultative Support
Flipkart – MySQL Consulting Services and MySQL Consultative Support
Paytm– MySQL Consultative Support
PetSmart– MySQL Consulting Services and MySQL Consultative Support
CallForAmerica – MySQL Consultative Support
SunTec Business Solutions – MariaDB Consulting and Support
ESPN – Architected & deployed MySQL high availability solution and MySQL Consulting & Professional Services
Mashable – MySQL Consulting Services and Remote DBA Services
Proteans – MySQL performance audit & optimization and MySQL Consulting & Professional Services
Symphony Software – MySQL performance audit & recommendations, custom MySQL sharding solution and MySQL upgrades/migration
Yatra – MySQL Consultative Support
Justdial– MySQL Consultative Support
Victoria's Secret– MySQL performance audit & recommendations and MySQL replication solutions
Airpush– MySQL Remote DBA Services and MySQL Consultancy
Virsec – Remote DBA services and Consulting & Professional Services
Go-Jek – Deployed MySQL high availability solution using Percona XtraDB Cluster, MySQL emergency support, performance optimization and Consultative Support
Midtrans – 24*7 MySQL Remote DBA Services, MySQL high availability & fault tolerance solution using Percona XtraDB Cluster & ProxySQL and MySQL Consultative Support
Bukalapak– MySQL Consultative Support
Sequoia Capital – MySQL Professional Services, Remote DBA Services & Consultative Support for Sequoia APAC and Southeast Asia portfolio companies
Housing.com – Consultative support and PostgreSQL Consulting Services
Electronic Arts – MySQL Consulting Services addressing performance and scalability
Adyen – MySQL Consulting and Professional Services
Pinterest – MySQL Consulting & Professional services addressing performance and scalability
Thomson Reuters Corporation – PostgreSQL Remote DBA Managed Services